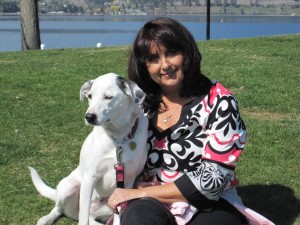 I was born in Budapest, Hungary. My parents escaped and broke through the "Iron Curtain" after the Russians invaded Hungary in 1956. At 2 years old, bundled up tightly, my father pushed me across a frozen river and into the arms of another refugee as Russian guards patrolled nearby. After a year of being in refugee camps, we finally arrived to the United States and shortly thereafter settled down in Southern California.
Growing up I always loved animals having a pet rabbit and a pet rat and we always had cats. It wasn't until the end of High School when our family got our first dog. I wish that I can say it was a good experience but he was a dog with very bad manners always raiding the trash, eating paper and grabbing the sofa pillows so you would chase him.
The past 25 years my career had been in the Environmental field working with Industry and Manufacturing in the disposal of hazardous waste. In 2001, I founded Rosemet Environmental Services. I developed an "on site" Regulatory Compliance training program educate my clients on proper waste handling and disposal.
I adopted my first dog, Audrey in 2005. It turned out to be a life altering event. I can't believe the decades of the companionship and fulfillment I missed out on not having a dog. I decided to make up for lost time by dedicating my life to working with and volunteering in dog services. From the very beginning my dog Audrey went with me where ever I went. She is a great companion in the office and in the field. When she was a puppy I watched all the dog shows on TV and it became my Training. When Audrey was 2, she was recruited into the Therapy Dog Program "PAWS" of the OCSPCA where we visit hospitals and health facilities helping bring comfort and smiles to all the faces in need. I realized that I needed to be in the dog training business full time and began my quest to find the right program. I sold my Company and attended the "HUSTLE UP" Certified Educator Trainer course in British Columbia, Canada.
It was serendipity and I was so, so excited!
I learned to raise my expectation for myself and my dog. Prior to arriving at "Hustle Up", I thought Audrey and I had a good relationship however, it was a relationship built on feelings of the heart. Now, we have a bond that is based in trust and respect. Something I only dreamed of having with my dog but didn't know how to achieve. I can tell that she is a much happier dog now. My previous experience as a trainer made this a perfect career choice.
J.R Frederick ~ Certified Trainer Educator (CTE)